What's New in InSpiredByYou.com
The popular MyStudioPlus.com website receives a major upgrade in 2012 with new features, new name, new look, and new pricing. The new InSpiredByYou.com is sure to become the premiere online hosting and e-commerce site for wedding and event photographers, as well as senior and family photographers.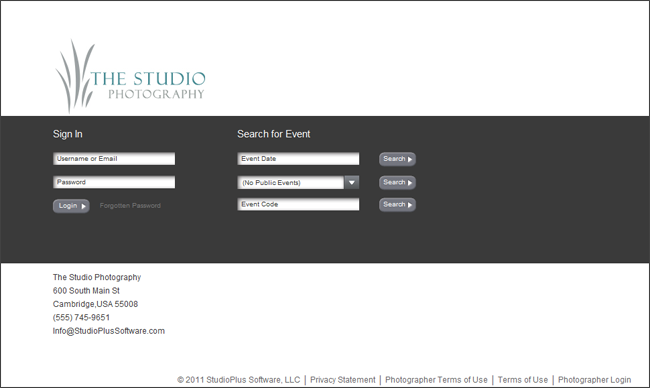 New Name, New Look, New Pricing
The MyStudioPlus.com site is now called InSpiredByYou.com, or InSpired for short. The entire look and feel of the site has been updated, giving the site a modern and polished look that looks great on traditional browsers as well as tablet devices like iPads®. In addition, the pricing structure has also been updated to make it an even lower cost solution then ever before.
+ See InSpiredByYou pricing details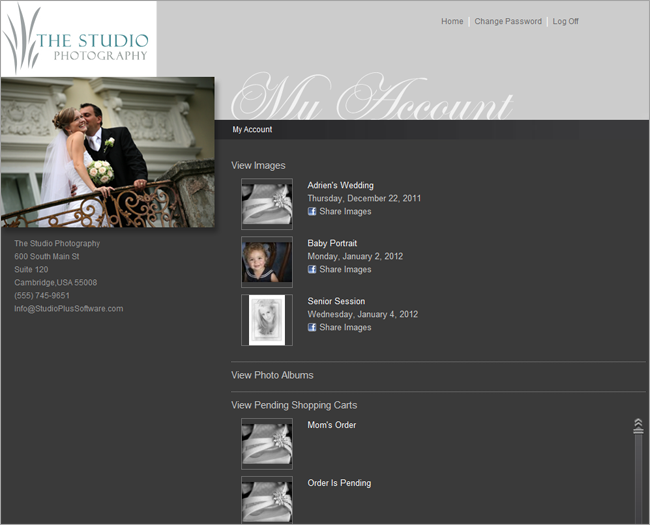 Album/Photobook Proofer
InSpired now includes an online album/photobook proofer. Simply upload your album or photobook pages and let your client log in and view the album. The client can then "mark up" the album with comments and annotations. Those mark ups are then viewable by your album designer. You can make the necessary revisions, and upload a second revision to repeat the process.

Animoto Integration
Animoto® videos have become a powerful tool for the professional photographer. Now, you have the ability to embed an Animoto video into an InSpiredByYou.com account so the client can view that video at the same time they are viewing their images and albums.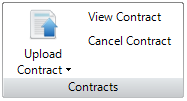 E-Sign Contracts
For wedding and event photographers, you can now create a customer contract right in StudioPlus Spectra or myStratus and upload that contract to InSpired for your client to review and electronically sign.
Social Networking
InSpired now includes optional social networking integration with Facebook, Twitter, and LinkedIn. Clients can choose to share a link to their pictures with their family and fiends via their favorite social networking site. Guests are then directed to your site to view the images, giving you valuable – and FREE! – exposure to countless new prospects.
Prepaid Orders
You now have the ability to record an invoice as a prepaid order in StudioPlus Spectra or myStratus. The order is then uploaded to InSpired. The client can view the prepaid order and select which images they want to be printed for each prepaid product.
Multiple Shopping Carts
Your clients now have the ability to start a shopping cart, save it, and then start a second or third shopping cart. They can have as many pending shopping carts as they wish and finalize them whenever they want.
Multiple Promotions
You now have the ability to allow your clients to choose more than one promotional offer at a time. For example, take 5% off the order if placed with 10 days, and also receive a free set of wallets if the order is greater than $300.
More Guest Options
When clients choose to invite guests to view their images, they now have the option to either share their entire set of images or just their favorites.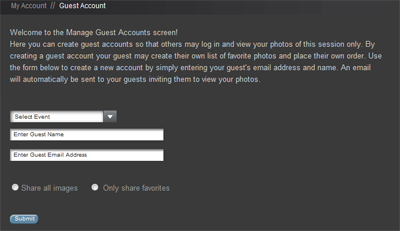 Thumbnail View
A new thumbnail view has been created, giving clients the ability to view many images at the same time. Clients can select multiple images to be marked as favorite, hidden, added to a group, or shared with their social network.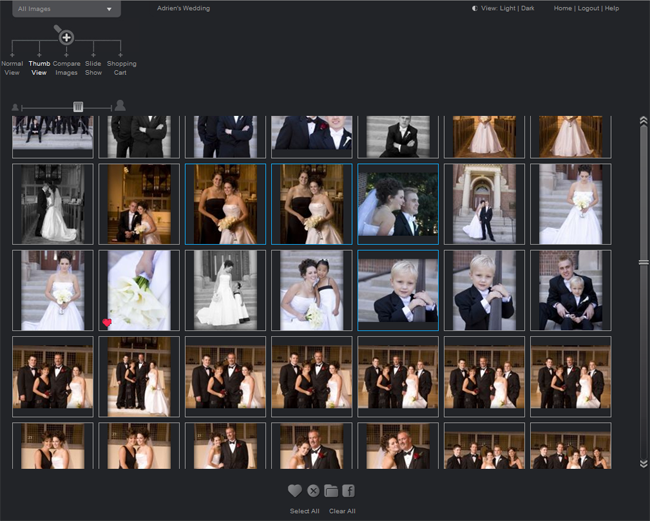 Custom Image Groups
Clients now have the ability to create their own custom image groups, and then add or remove images from those custom groups.
Download Favorites
You now have the ability to download a client's "Favorite" image selections to StudioPlus Spectra.
Download Guest Names
You now have the ability to download the names and email addresses of guest accounts that are created online to StudioPlus Spectra.
To find out more about how to take advantage of these powerful new features, call StudioPlus Software at 888.862.4868 or email us at
Sales@StudioPlusSoftware.com
.