Related Links
+ Spectra Series Comparison
+ Try Spectra Free
+ Spectra Video Tours

Testimonials
"Thank you for the new Dashboard feature in StudioPlus. I can throw away my old dry erase board. The Dashboard gives an instant display of our progress compared to goals, last year or last month. Studio Plus has always given me the reports I needed, but the Dashboard keeps our progress ready at all times."
Linnie Rhudy
Visions Unlimited Photography

Announcing the Release of StudioPlus 2010 Volume 1!
At StudioPlus, we listen to our clients and are always looking for ways to improve StudioPlus so that we can continue to provide you with the industry's best management and digital workflow system. The features we've added to StudioPlus 2010 Volume 1 are sure to impress all our clients. Don't let the down economy affect your business! Continue to innovate your studio with the power of StudioPlus.
---
Improved User Experience
StudioPlus 2010 enhancements focus on improving the day-to-day user experience while using the software. Many of the common screens that are used day in and day out to manage your business have been redesigned from the ground-up, incorporating many suggestions offered by current StudioPlus users. In addition, with the new technologies used to build these new screens, future enhancements will be even easier to make, so keep your suggestions coming.
---
New Client Screen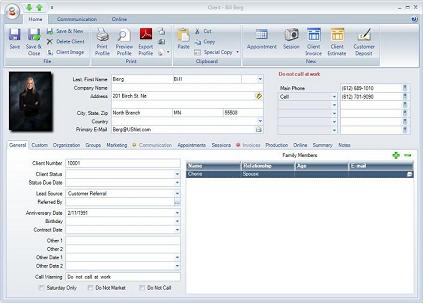 The Client Information screen has been completely redesigned.
---
New Session Screen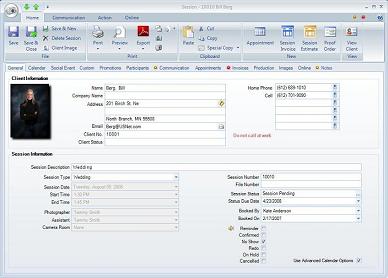 The Session Information screen has been completely redesigned.
---
New Invoice Screen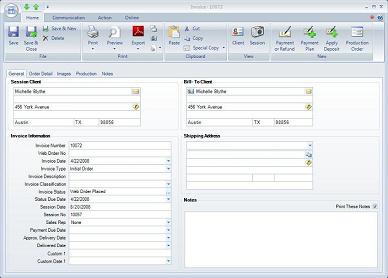 The Invoice Information screen has been completely redesigned.
---
New Phone Call Screen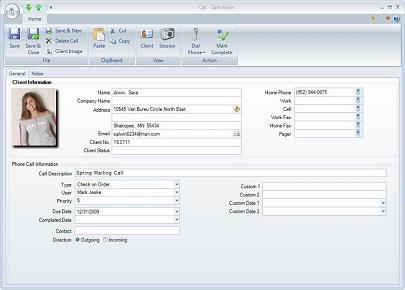 The Phone Call Information screen has been completely redesigned.
---
New Wizards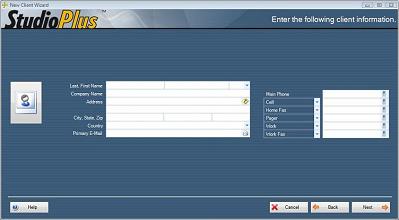 All the informational wizards in StudioPlus, including the Scheduling Wizard, have been completely redesigned to incorporate all the new features throughout the application.
---
Other Screens
Other screens that have been completely redesigned include the Payment, Appointment, Email, and Letter screens.
Browse Screen Filtering

The "Filter The Data" feature on the browse screens has been enhanced. New Office 2007 style filtering has been incorporated.
---
New HoldMyMemories.com Integration
StudioPlus now integrates with an exciting new product called HoldMyMemories.com. First of all, HMM's primary purpose is a client retention tool, to help keep your clients coming back to your studio. Secondly, HMM leverages the power of social networking and an iPhone® app to increase your brand awareness. Thirdly, HMM provides you with a recurring revenue stream, while not costing you anything. For more information on how you can offer HoldMyMemories to your clients, click here.

---
Digital Imaging Enhancements
New Ability to Render Composites to Layered PSD Files: StudioPlus can now render out your composites to layered PSD files, allowing you to open the PSD in Photoshop® for additional editing.
New Incremental Image Rotation: You can rotate individual images within a composite at one degree increments.
New Custom Crop Ratios: You can now add your own custom crop ratios to the cropping tool in the digital workflow.
New Ability to Drag an Image from One Zone to Another: You can now drag an image from one drop zone directly to another while you are building your composite.
New Ability to Copy an Image: You can now copy an image so that you can show your client a single image with different colorizations or crops side-by-side.
New Ability to Maintain Image Selection While Switching Templates: Now, when you switch between different composite templates, StudioPlus will maintain your image selections.
New Raw File Support: StudioPlus now includes additional support for the newest RAW file formats, including the Cannon CR2 file.
---

To find out more how to take advantage of these powerful new features call StudioPlus Software: 888.862.4868
Sales@StudioPlusSoftware.com