Announcing the Release of StudioPlus 2011 Volume 1!
+
StudioPlus full working 30-day trial
+
StudioPlus 2011 Vol 1 full installer for new installs and upgrades
At StudioPlus, we listen to our clients and are always looking for ways to improve StudioPlus so that we can continue to provide you with the industry's best management and digital workflow system. The features we've added to StudioPlus 2011 Volume 1 are sure to impress all our clients. Don't let the down economy affect your business! Continue to innovate your studio with the power of StudioPlus.
---
Google® Calendar and Contact Syncing (for iPhone® and other mobile devices)
New syncing capabilities have been added to StudioPlus to allow it to perform a two-way synchronization with Google Calendar and Google Contacts! This means that any mobile device which supports syncing with Google (which includes the iPhone), will now have syncing capabilities with your StudioPlus calendar and contact list. Syncs automatically occur every 10 minutes in the background. No clicking necessary!
+ Watch the video "Smartphone Syncing thru Google"
---
New Recurring Appointments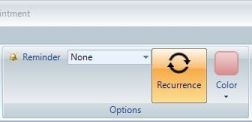 The StudioPlus calendar has been enhanced to now allow recurring appointments! Any unlinked appointment now includes a button to make the appointment reoccur on the calendar. Recurring appointments will also sync with the Google calendar.
---
New Loyalty Reward Program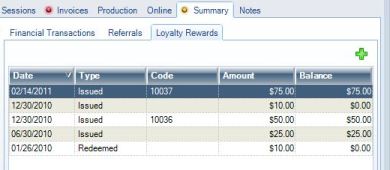 A great new feature has been added to allow you to reward your most faithful clients for their repeat business, much like a frequent flyer program. The more your clients spend with your studio, the more rewards they can earn. You can choose which clients are included in the program, at what dollar thresholds they earn rewards, what the reward amounts are, and when they expire. When a client earns a reward, StudioPlus can email or mail them a customized reward certificate. StudioPlus will then track when rewards have been redeemed.
---
New Multi-Layer Options in Composite Template
New capabilities have been added to the StudioPlus composite template feature. You can now create multiple template options for each layer of the template. For example, build a single template that includes a silver frame, platinum frame, and a black frame option. Then in the sales presentation or digital workflow, you can select from any of the available frame options. This can also be a great feature for matting options or greeting cards that have multiple variations.
---
New End of Day Wizard
A new End of Day Wizard has been introduced to streamline your end of day posting procedure. The single wizard can be run at the end of a day or the start of the next day, to quickly post your payments and invoices, and print your daily reports.
New Customer Deposits Reconciliation Report
A new report has been created giving cash-basis studios the ability to reconcile their customer deposits liability account in their accounting software with StudioPlus.
---
MyStudioPlus.com Event Capabilities
New abilities have been added to MyStudioPlus.com to better handle events, including weddings. Now, in addition to a standard session, you can make any session either a private or public event. Private events can be used for wedding parties, allowing any individual that knows the event code to log in and view the images on MyStudioPlus.com. Public events can be used for sporting events, allowing any individual to log in and view the images for that event.
MyStudioPlus.com Promotion Enhancement
A new enhancement has been made to MyStudioPlus.com promotions, allowing you to create a promotion that is only valid for a limited number of days after the session is uploaded. The feature will encourage clients to place their online orders earlier in order to take advantage of additional savings.
---
New Studio Preferences
The previous Company Preferences screen has been completely rebuilt and renamed to be Studio Preferences. The new screen is more intuitive and faster to use. In addition, the following new settings have been added:
» Scheduling tab – Limit the appointment type to the list
» Client tab – Enter the first name first
» Client tab – Limit the lead source to the list
» Client tab – Loyalty program start date
» Accounting tab – Loyalty reward GL account
» Phone Calls tab – TAPI auto-dial prefix
» Reports tab – Include $0 invoices when calculating average initial orders
» Credit Cards tab – New Merchant Warehouse settings for PCI-compliance
Enhanced Wizard Builder capabilities
The Wizard Builder has been completely rebuilt, making the form more intuitive. In addition, you now have the ability to set additional default values in the wizard, like defaulting to creating a new client, instead of searching for an existing one, defaulting to not create an invoice, or defaulting to print or not print certain printouts.

The settings for the new End of Day Wizard have also been added.
---
Enhanced Image Editor Integration for Mac users
For users that run StudioPlus on a Mac using VMware® Fusion or similar programs, you can now have StudioPlus automatically open image files in the Mac version of Photoshop® (or other image editing software), instead of the Windows version. Follow the instructions in VMware Fusion to associate image files in Windows with your Mac software. Then simply blank out the image editor in your StudioPlus Workstation Preferences. When you click the option to retouch or edit an image in the digital workflow, the image will then open on the Mac side, not in Windows.
---
Sales Rep added to Sales Presentation
The sales rep has been added to the Sales Presentation Summary tab, allowing the user to set or change the sales rep field as necessary. Use data validation and user security to force users to fill in this field when required and to prevent unauthorized changes to this field.
---
Enterprise Posting Enhancement
A new feature has been added for Enterprise clients allowing them to post records at the location the record was created at instead of the studio the record belongs to. This feature can be used at corporate offices allowing them to post all payment records created at the corporate office, even if the payment record is assigned to an individual studio.
---

To find out more about how to take advantage of these powerful new features call StudioPlus Software: 888.862.4868
Sales@StudioPlusSoftware.com