What's New in Spectra 2013 Volume 1
Spectra 2013 is full of new features* and enhancements designed to streamline your workflow, boost your marketing impact, and improve your productivity. Read on to find out about Spectra's new Lightroom™ integration, improved triggers, HTML email enhancements, and much more!
Spectra 2013 is available now as a free 30-day trial for new users and a free upgrade for existing StudioPlus Spectra users with a current maintenance plan.
+
Download Spectra 2013 Volume 1 installer for 30-day trial
+
Download Spectra 2013 Volume 1 installer for new purchases and upgrades
+
Read the detailed release notes for Spectra 2013 Volume 1
---
New Lightroom™ Integration Features
You can now integrate your Lightroom workflow with Spectra! Launch Lightroom right from the Spectra Workflow hub to pretouch and organize your imported session images. Spectra will automatically create previews once you've finished in Lightroom. Using Spectra's new Lightroom Metadata Presets, you can also organize your client's images in Spectra according to the ratings, color labels, and keywords you assigned to the images in Lightroom.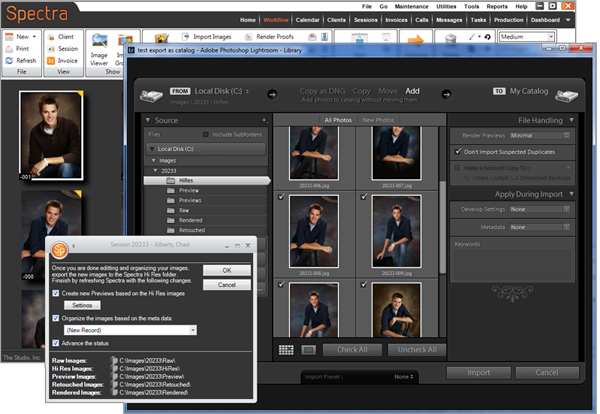 ---
Dashboard Enhancements
The already powerful reporting capabilities of the Spectra Dashboard have been further enhanced with the addition of 28 new data types to choose from when building your reports, along with seven new ways to group your data! The ability to save your report customizations has also been added.
---
Price Lists Improved
The Price List and Price List Items maintenance screens have been completely redesigned for faster data entry, and some great new features have been added.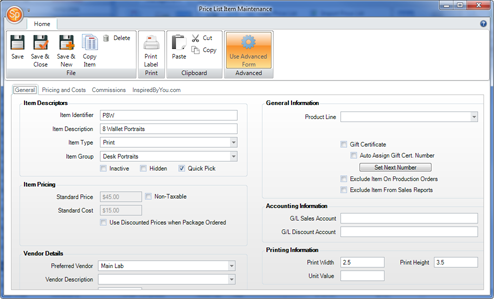 | | |
| --- | --- |
| | Item Types have replaced Item Categories and are now assigned at the item level, allowing your price list groups to contain items of different types. |
| | When copying or moving a package from one price list to another, Spectra will automatically link the package components to the correct items in the new price list. |
| | New ribbon options are available to quickly copy a group or an item. Ctrl-Drag can now be used to copy instead of move. |
| | Unit-based packages can now be created using the new "Unit Value" field. You'll assign a unit value to each package component and specify the total number of units included in the package. When you add a unit-based package to an invoice, you will keep adding components until the number of units allowed is reached. Spectra will keep track of the units and warn you when too many or too few units have been selected. A related security option, called Invoice Unit Value Override, has also been added so you can control whether or not users will be allowed to proceed with an incorrect number of units. |
---
New Client Merge!
The ability to merge clients has been added! Client notes will be merged and any sub-records (sessions, appointments, invoices, deposits, family members, etc.) will be moved to the chosen client.
---
Trigger Enhancements
We've redesigned the way you create triggers, providing all-new, easy-to-use Trigger Maintenance forms. We've also added new options to several existing triggers, as well as created some brand new triggers.
| | |
| --- | --- |
| | Appointment Type and Session Type triggers have been added. New! |
| | Task Type and Task Status triggers have been added. New! |
| | Client triggers can now be based on their Birthday or Anniversary. |
| | Appointment triggers can be based on the Appointment Booked date. |
| | All triggers can now be used to automatically create a task instead of a communication record. |
| | SMS text messages can be triggered to a specific user or a specific mobile number. |
| | The number of email attachments has been increased to five. |
---
Sunrise & Sunset
Sunrise and sunset times have been added to the calendar to help you schedule sessions when the light is right! This feature can be turned on or off right on the calendar ribbon.
---
Convert Appointments to Sessions!
In Spectra 2013, you can easily convert an appointment to a session, either from the calendar or from the appointment ribbon! In addition, you can now link (or re-link) appointments. These new features will be especially valuable to anyone using the Spectra Google® Sync feature – convert unlinked appointments to linked ones and convert linked appointments to sessions.
---
Control Center Enhancements
The Spectra Control Center is now easier to set up and administer! You can now maintain the Control Center jobs from any workstation, right from the Utilities menu in Spectra. Added security options give you control over who has permission to modify the jobs. Additional enhancements include:
| | |
| --- | --- |
| | The Control Center will now run on every workstation, all the time. It is not "stopped" after an install or update. |
| | You'll set up each job to run on a specific workstation, preventing the same job from running on multiple computers. |
| | Spectra will now maintain 30 days of logs that record your Control Center activity. These logs can be reviewed from any workstation. |
| | A Google Sync Processor job has been added to the Control Center. |
| | Enterprise clients will now be able to set up and maintain the Control Center from the corporate office. |
---
HTML Emails Enhanced!
The HTML Email Builder has been completely rewritten, making it much easier to use. We've added the ability to make old emails inactive, as well as given you the tools to easily make copies of existing emails.

We've also given you two new ways to add merge fields to your HTML. Instead of looking through the HTML code, you can now add merge fields right in the Preview window. You can also print a list of merge codes for your web designer so they can insert the codes for you.
Another enhancement is the ability to merge either the main client image or the main session image into the HTML email when it is being sent, giving you the chance to personalize the email for each client using your own images!

Finally, hosting the images used in your HTML emails just got easier! With one click, Spectra will now upload all the images in the email to your new Stratus Drive™ and adjust the links within the HTML code.
---
* Not all features are available in every edition of StudioPlus Spectra. Check the comparison chart to see which features are included in each edition.
+ Compare features
For a complete list of new features and enhancements in Spectra 2013, read the release notes.
To find out more about how to take advantage of these powerful new features, call StudioPlus Software at 888.862.4868 or email Sales@StudioPlusSoftware.com.