What's New in Spectra and myStratus 2016
The 2016 versions of Spectra and myStratus are full of new features and enhancements. We're very excited to introduce direct printing capabilities in this version, including all the tools you need to create a comprehensive and robust printing/production workflow!
Other new features we think you'll love include the new promotional price list items that make it easy to use third-party coupons (like Groupon™), several new trigger features, new cropping and green screen tools, new visibilty options for your price list items, and more! An exciting new addition to myStratus is the new web form feature! Design custom forms that your clients can fill out online! Read on to learn more about all the new features in 2016!
+ Release notes for 2016 Volume 1

Spectra 2016 is a free upgrade for existing Spectra users with a current maintenance plan. New to Spectra? Try it free for 30 days!

myStratus 2016 is a free upgrade with your subscription. We will begin updating myStratus accounts next week. Watch for an email with your scheduled conversion date. If you use the myStratus Desktop App, you will be prompted to download the 2016 version the first time you log in after your conversion.
Using an older version of StudioPlus Spectra?
+ Compare features by year
---
New Printing Workflow!
Do you print some or all of your work in house? You can now print directly from Spectra/myStratus to any printer that has a Windows driver! The new Printing Workflow features create a comprehensive and robust print/production cycle.
Highlights include:
Each printer on your network can be set up as a production printer Spectra/myStratus. You can even create groups of printers (printer pools) to spread out the workload!
You can create print layouts to automatically print sheets, such as a sheet of two 5x7s or a sheet of wallets. When you order these products, the software will automatically lay out the image on the sheet before printing it!
Each item in your price list can be linked to a specific render profile that includes all the instructions needed to prepare and print the product. To help you set up your render profiles, we've included presets for the several of the most common printing scenarios.
We added some "smart" print buttons throughout the software that can automatically print products or orders using all the appropriate render profiles and layouts you've set up!
For Spectra and myStratus Enterprise clients, we're also introducing a new software product call StudioPlus Finale™. Designed to be the final step in your printing workflow, Finale is a render and printer server built into one. You can have Finale running on one computer at each studio location and make it responsible for rendering and printing all the images for that location!
+
Watch a demo!
+
See how it all fits together with our flow chart overview!
---
New Promotional Items!
We've added a brand new item type to the price list – Promotional Items.

Use this new item type to create a variety of promotions, including percentage and dollar discounts, free items, and even loyalty rewards! Each promotional item can include usage limits, spending thresholds, and other qualifying criteria. That's not all! This new item type includes the coupon number and reporting features you need to use Groupon™ and other third-party coupon sellers.
---
New myStratus Web Forms!
Note: This feature is available in myStratus only.
You can now create forms for your clients to fill out online! Design questionnaires, contracts, contact information forms, feedback forms, and more! You can link fields on your forms to actual fields in your Stratus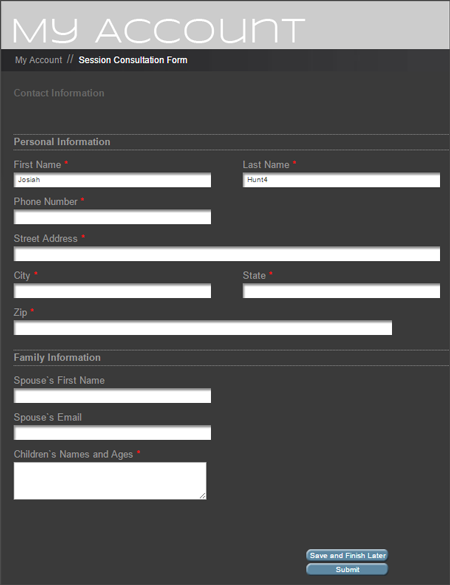 database, creating a direct link to your database. That means information from your database can be displayed on the client's form. It also means your database will be immediately updated with any changes when the client submits a form! Web forms can be based on clients or sessions.
| | |
| --- | --- |
| | Use the desktop app to design your own forms using text boxes, drop-downs, checkboxes, date fields, and more. Each field can be designated as "Read Only," "Required," and more. |
| | Clients view their form(s) by logging in to InSpiredByYou. You decide when and how long each form is visible to your clients. |
| | Once a web form has been designed, individual forms can be created and attached to your clients and sessions automatically or manually. |
| | Track web form submissions with your client, session, and web form statuses. |
| | Automatically create a follow-up task when a web form is submitted. |
---
New Invoice Copy!
You can now easily copy an invoice! Just open the invoice and choose Copy Invoice on the File menu. You can link the new invoice to the same session or to a different session/client.

---
New Cropping Tool!
The cropping tool has been completely redesigned! Instead of drawing a crop box on top of your image, you now move and zoom the image within the crop boundaries. The new cropping tool has it's own set of tools and hot keys that make it easy to quickly crop all the image in session. You can also include guidelines for consistent cropping (optional).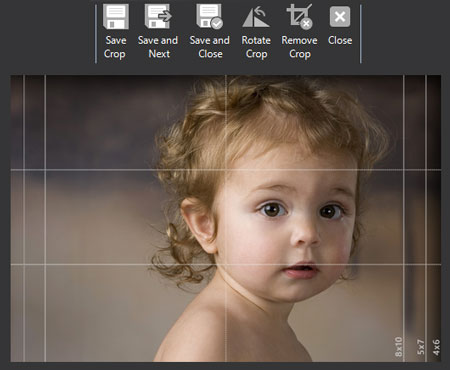 ---
New Green Screen Features!
If you use green screen (chroma key) photography in your studio, you can now prepare these images right from Spectra/myStratus (along with a third-party Photoshop plugin), creating PNG images with a transparent background. You can also use the Digital Template Builder to create many different backgrounds to layer with your images.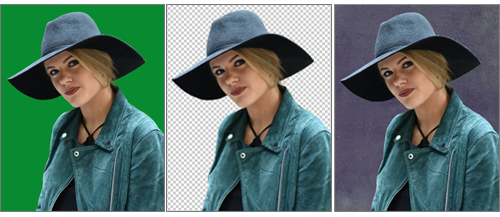 ---
Digital Template Builder Expanded
The Composite Template Builder has been renamed – it's now called the Digital Template Builder. The usage has also expanded. In addition to designing composite templates, you can also now use it to create print layouts (sheets) and backgrounds (for green screen images).
There are several other enhancements, including:
| | |
| --- | --- |
| | You can now hide template groups. Use this feature to hide a group of templates that shouldn't be used until a certain date. In addition, each template includes two new date properties that can be used to control when an individual template is available for use. |
| | Because of the expanded uses for the Digital Template Builder, your templates are now organized into Template Types. These currently include Composite Templates and Print Layouts. |
| | Drop zones include a new Fill Zone property. Use it to "force" an image to fill the drop zone, preventing accidental white space issues in your composites. |
---
Price List Enhancements
We've added some handy new price list features and made some changes to the layout of the price list item form to make it easier to use.
New Visibility Options - You can now control when individual items are available for ordering by specifying Starting On and/or Hide After dates.

Visibility can also be decided at the Item Group level. To hide a group of items, double-click an item group in your price list and check the Hidden box.

New Custom Tab - A bunch of new custom price list fields have been added. Use them to track all sorts of additional information about the products you sell.
New Digital and Fulfillment Tab - New print settings have been added to price list items as part of the new Printing Workflow. These settings are located on the new Digital and Fulfillment tab, along with several other settings that have been moved from the General tab.
---
Trigger Enhancements
Trigger enhancements in 2016 include:
| | |
| --- | --- |
| | Client Status Triggers can now send communications and create tasks based on Family Member Birthdays! |
| | A new SMS/Email option has been added to all triggers. Use this option to automatically send an email if the client doesn't have a SMS-enabled phone number. |
| | You can now exclude confirmed sessions/appointments from your triggers. |
| » | Each trigger now includes optional start and stop times. Use these to control when texts and email are sent. Don't bug your clients at 2:00 AM with a text message! |
| | Invoice Status Triggers can now include all invoice types or be limited to a specific invoice type. |
---
myStratus Web Enhancements
We are continuing to increase the functionality of the myStratus Web app by adding features found in the desktop app. We've recently added the following:
| | |
| --- | --- |
| | Time Clock - Employees can now use the web app to clock in and out. |
| | Time Sheet Report - Time sheet reports can now be produced using the web app. |
| | Custom Fields - Many of the custom fields in myStratus are now included when you access your data through the web app, including client custom fields, session custom fields, and more. You can also make changes to the names of these fields through the web app. |
| | Commissions - You can now choose commission settings for your price list items through the web app. |
| | Company Preferences - The Phone Calls tab and the Miscellaneous tab are now available in the web app. |
| | Online Booking Features - The session type settings in the web app now include the Online Booking tab. Log in to your myStratus website and open your session types activate them for online booking or make changes to your other settings. |
---
Other Goodies!
Here are a few more features added in 2016:
| | |
| --- | --- |
| | Session Numbering - There is a new option for numbering your sessions – Session Date + Client Name. |
| | Dashboard - A new Save button replaces the previous auto saves. The Save button will only appear when there are unsaved changes. |
| | SMS Settings - There are some new settings for customers with a dedicated SMS number. Use these settings to assign incoming texts (non-reply) to a user or department. |
| | Appointments and Sessions - Two new fields have been added to appointments and sessions – Resource and Date Confirmed. These fields are available in filters, column chooser, form letters, etc. |
| | Process Payment Plans - You can now send HTML emails (in addition to form letters) during the payment processing routine. |
| | Clients - A new Last Call Date field has been added to clients. This field is available in filters, column chooser, form letters, etc. |
| » | Client Import - The Referred By field can now be updated during a client import. |
| | Trigger List - The Call Description is now included in the trigger list to make it easier to identify your triggers. |
| | Data Entry Validation - The Payment Reference Number field has been added to the fields that can require the user to enter a value. |
| | Security Modifications - Several new security settings have been added, including the ability to control who modifies Client Status, Render Profiles, and Render Printers. Stratus users will also see new options to control who can Force Log Off Other Users and to control access to the Mobile Device settings. |
| | Promotional Data Export - A new export routine has been added to the Utilities menu specifically for promotional data. This facilitates the process of using Groupon and other third-party coupon sellers. |
---
Learn More
For a complete list of new features* and enhancements in the 2016 versions of Spectra and myStratus, read the release notes.

* Not all features are available in every edition of StudioPlus Spectra/myStratus. Check the comparison charts below to see which features are offered in each edition.
+ Compare features - Spectra
+ Compare features - myStratus

To find out more about how to take advantage of these powerful new features, call StudioPlus Software at 888.862.4868 or email Sales@StudioPlusSoftware.com.