What's New in Spectra and myStratus 2015
The 2015 versions of Spectra and myStratus are full of new features and enhancements! We're very excited to introduce a brand new emailing service as part of this version. Read on to find out about StudioPlus Mail and other new features such as electronic delivery, invoice import, and more!
+ Release notes for 2015 Volume 1

Spectra 2015 is a free upgrade for existing Spectra users with a current maintenance plan. New to Spectra? Try it free for 30 days!

myStratus 2015 is a free upgrade with your subscription. All myStratus accounts will be automatically upgraded to the 2015 version on the morning of March 31, 2015. If you use the myStratus Desktop App, you will be prompted to download the 2015 version of the desktop app when you log in.
Using an older version of StudioPlus Spectra?
+ Compare features by year
---
New Emailing Service - StudioPlus Mail!
StudioPlus Mail is a brand new service that gives you state-of-the-art emailing functionality that is fully integrated with both Spectra and myStratus! We've partnered with SendGrid, the world's largest provider of email infrastructure service, to provide a service that is simple to use and very cost effective as compared to other email marketing services.

SendGrid's notable clients include Pinterest, Foursquare, Spotify, and Pandora.
With StudioPlus Mail, you can easily:
| | |
| --- | --- |
| | Give your clients the ability to unsubscribe and automatically update that information in your software. |
| | Track open and click-throughs to see if your emails are being opened and, more importantly, if your clients are linking back to your website. |
| | Use rich analytics to see how effective your marketing is and tag emails with email categories (new!) to organize your analytics by campaign. |
| | See basic analytics right in your software or log into your own SendGrid portal to go deeper. |
| | Email clients a link to confirm appointments and sessions. The session or appointment will automatically be marked as confirmed in your software. |
| | Comply with spam laws to ensure maximum deliverability. |
| | Stop sending emails to invalid email addresses. |
| | Monitor your usage and manage your email subscription right from your software. |
The new StudioPlus Mail service is designed to make you a marketing genius by helping you create and analyze highly effective marketing campaigns.

+ Find out more about the StudioPlus Mail service
+ Watch a demo!
---
New Electronic Delivery!
In addition to delivering beautiful prints, albums, and canvases to your clients, many of you are choosing to deliver some images electronically (via CD, DVD, or USB). Now you can use our brand new electronic delivery features to easily deliver downloadable images directly to your clients, right from the software! Not only will your clients love this convenience, but it will also save you countless hours in your digital workflow!

The software automatically compresses selected files into a single zip file and uploads it to your Stratus Drive online storage. You can paste the download link into an email to your client or merge the download information into an HTML email or form letter. You can even set up the software to do this automatically by using render profiles and email triggers, creating a highly streamlined workflow.
Here are just a few ways you can use this great new feature:
| | |
| --- | --- |
| | Deliver hi-res versions of specific ordered images to a client. |
| | Deliver hi-res versions of all the retouched images for an entire session. |
| | Provide your clients with a low-res version of all their session images, including your watermark and automatic image correction and skin smoothing applied by the Perfectly Clear plugin. |
| | Deliver images with a certain rating or those that belong to a certain image group. |
| | Provide a single low-res image for a client to use on Facebook. |
| | Deliver a low-res, watermarked copy of a selected yearbook image for the client to proof and approve. |
| | You can also deliver any other file, group of files, or folder from your computer. You are not limited to sending images! |
---
New File Attachments
You can now attach documents (e.g., Word docs, PDF files, Excel spreadsheets, etc.) to your clients, sessions, invoices, orders, and tasks! Attach proposals, contracts, event planning guides, handwritten forms, job sheets, and more. You can also include any of a client's attachments in an email message.

---
New Invoice Import!
Import invoices with the brand new Import Invoices tool in Spectra and myStratus Desktop. This will be great if you have invoice records in another software or need to import invoices from an e-commerce website.

---
Client Import Improved
The Client Import Wizard can now be used to update existing clients in addition to importing new ones. The software can match up clients by client number, student ID, or a combination of student ID, organization, and graduation year.

This new feature is great for school photographers who receive an updated list of students each year. It can also be used to update a batch of client records by exporting them to Excel, making changes, and then importing them back into the software.

---
New Notification Center
We've introduced a valuable new tool you can use to communicate with your staff/studios. Use the Notification Center to create notifications for a single person, a department, or an entire studio. Enterprise clients can also communicate with a group of studios or all their studios. There is a brand new panel on the home page where your users can see and manage their own notifications.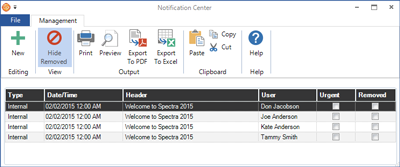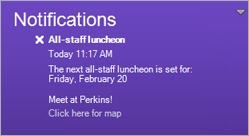 We will also use the Notification Center as a primary way of communicating important notices to you, such as:
| | |
| --- | --- |
| | The release of new software updates, features, or services. |
| | The availability of new training materials, videos, or blog posts. |
| | Important notices regarding service interruptions that may affect your business. |
| | Control Center jobs that have failed and may need your attention. |
---
Workflow Sorting and Searching
We've added some new features to the Workflow hub to help you find what you're looking for!
| | |
| --- | --- |
| | The grids on the main hubs in the software have always been very flexible, allowing you to choose which columns you want to see, resize and rearrange the columns, filter the information, and more. The same customization tools you use on the other hubs are now found on the Workflow hub! Sort, group, and filter the columns...add columns and show summaries. The next time you log in, your changes will still be there! |
| | Another new tool, the Search Selector, gives you a brand new way to quickly find sessions or orders on the Workflow hub. It works a lot like the search tool on the Session and Production hubs. You can search for almost any session or order right on the Workflow hub. In addition, you can also scan a session or production order bar code to quickly find and select a record. |
---
New Production Order Features
Do you base your workflow on a projected delivery date instead of when an order is placed? In 2015, we're introducing a new method of tracking production orders that works backward from the approximate delivery date (as opposed to the default method of projecting forward from the order date). You can choose the best method for your business.

With this new method, the software looks at the Approximate Delivery Date of the invoice and works backwards from there to determine when each stage of production should be done. The result is a much more accurate workflow, giving priority to items that must be delivered first.

In 2015 you can also create production order based form letters and HTML emails, merging information directly from a production record. In addition, you can trigger emails to your clients based on these new emails.
---
Enhanced Session Promotions
Studios that use promotions extensively will love the expanded Session Promotions features in the software! You can include promo codes, active date ranges, and use new search tools to quickly find the promotion you're looking for when booking a session or maintaining your list of promotions.
---
Automatic Updates
We've improved how we deliver software updates to ensure you're using the most current release of the software. We want you to enjoy the best experience possible when using our software! The new method makes it simpler for you to roll-out new updates and upgrades.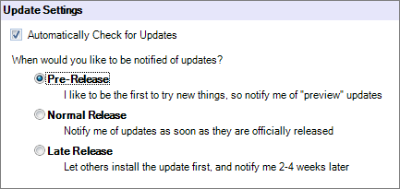 ---
Accounting Enhancements
We've included a couple new accounting tools in 2015 to make your life simpler! Now writing off an invoice and refunding a customer deposit involve fewer steps for you. Also, when creating a payment you can now easily choose the percentage of the invoice total your client is paying.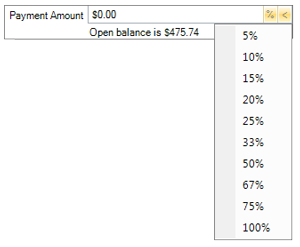 ---
Dashboard Enhancements
Our clients love their Dashboard reports! We're giving you greater control over how you manage the large number of reports you create. You can lock reports to prevent users from modifying or deleting important reports. You'll also see a brand new message that lets you know who is currently using a report you're thinking about modifying or deleting.
---
Other Goodies!
Here are a few more features added in 2015:
| | |
| --- | --- |
| | You can now search your Clients hub by email address or a portion of a phone number. |
| | A Last Session Date field has been added to your database. This means you can easily view this information on the Clients hub, as well as use it in your filters, form letters, and HTML emails to find and communicate with clients who haven't been in for a while or to find clients without a session. |
| | Session and appointment types can now be manually sorted by you or sorted alphabetically by the software. |
| » | You can now define which session types require a user to choose an organization and/or graduation year. |
| | Organizations can now include a separate template for masking secondary yearbook images. |
| | New security options include limiting access to refunds, hubs, invoices, user preferences, and Dashboard report locking. Setting invoice security to "No Access" will now hide the Invoices tab on clients and sessions. |
| | The Payment Processing job in the Control Center can now email processing reports to a user. |
| | Invoices, estimates, and sessions confirmations translated for clients in Belgium. |
| | The myStratus Mobile App is now available to myStratus Enterprise users. |
---
Learn More
For a complete list of new features* and enhancements in the 2015 versions of Spectra and myStratus, read the release notes.

* Not all features are available in every edition of StudioPlus Spectra/myStratus. Check the comparison charts below to see which features are offered in each edition.
+ Compare features - Spectra
+ Compare features - myStratus

To find out more about how to take advantage of these powerful new features, call StudioPlus Software at 888.862.4868 or email Sales@StudioPlusSoftware.com.