What's New in 2018 Volume 1
New and enhanced features save valuable time, and empower your tracking capabilities, along with providing even stronger automated functions.
+ Release notes for 2018 Volume 1


Spectra 2018 is a free upgrade for existing Spectra users with a current maintenance plan. New to Spectra? Try it free for 30 days!

myStratus 2018 is a free upgrade with your subscription. We will begin updating myStratus accounts soon. You will receive an email with your scheduled conversion date. If you use the myStratus Desktop App, you will be prompted to download the 2018 version the first time you log in after your conversion.
Using an older version of StudioPlus Spectra?
+ Compare features by year
---
New Client Referral Programs!
Referrals are the life blood of any good sales organization! So, in both Spectra and myStratus Desktop, we are now introducing Client Referral Programs to help you increase your referrals and ultimately drive sales for your business! Here are some of the highlights for this new program.
First, what is a Client Referral Program? A Client Referral Program is a set of rules the software will use to automatically reward your existing clients for sending you referrals. You can setup multiple programs, for example use a different program for different sets of clients based on their demographics. (Students may be a part of one program, while brides are a part of another.)
A Referral Program works like this:
You send an email or text to your clients either using an automated trigger or the bulk communication wizard thanking them for their business and requesting referrals.
The email/text, which you can build and customize yourself, will encourage your clients to send you referrals. Referrals can happen via a Facebook Link, an email, a text, or even verbally.
For each referral made by a client, the software will automatically issue a Loyalty Reward, in the amount you specified, to the Referring Client and can optionally send the Referring Client an email letting them know they just received a new reward which they can use on their next visit.
As an incentive for the Referred Client to book their session, you also have the option to give them a special gift or promotional item, such as a free product, or discount. Therefore, it's a win/win for both the Referring Client and the Referred Client.
myStratus Users can also receive referrals from a special web link, which existing clients can email, text, or share on their Facebook page. The link will automatically direct the new lead to a special form on your website. When completed, the site will auto create a new client record direct in your database. The web form can also be linked with our Online Booking portal – allowing new referrals to book their first session right away.
Some program ideas include:
Offer a $25 reward for each client who refers someone that completes a session. The referred client will receive a free session as their 'thank-you' gift.
Run a 15-day referral program to drive quick referrals. Offer $50 in rewards for each client who refers someone. The referred client will get 10% off their first order.
Have a special referral program for your "Ambassador" students getting referrals from schools. Offer the ambassadors a $25 reward for each new referral that places their first order. The new referrals will receive a free 8x10 print on their first purchase.
The new referral programs also come with new tracking features, such as the new
Client Referrals
,
Loyalty Rewards Activity
, and
Loyalty Rewards Outstanding
reports, including new Dashboard reports!
With endless possibilities, these powerful programs will sustain themselves after the initial set-up and help drive new business to your studio. Simply setup the program and let myStratus/Spectra do all the work for you.

---
Major Appointment Enhancements!
Appointment tracking is now easier than ever with the introduction of the new Appointments Hub and Appointment Statuses! Keep track of your appointments at every stage – whether they're rescheduled, cancelled, completed, etc. You can also view and access all appointments at once or search for specific records in the new hub.

With the new Appointment Statuses, we've also enhanced our triggers to allow for Appointment Type and Status Triggers.
---
New StudioPlus Mail Features!
We're bringing the in-depth tracking of SendGrid into the 2018 version by enhancing the StudioPlus Mail service. You can now track the Delivery Status of all outgoing emails within myStratus (not available in Spectra). These statuses include whether an email was delivered, opened, bounced, etc. After clicking the delivery status within an email, you can also view the Email History to see exactly when each status was recorded.

To go even further with the new delivery statuses, we've enhanced our triggers and added a new trigger type for Bounced Email Records. This way you can automatically create a task or phone call record whenever an email bounces, so you can follow up with the client to get a valid email address.

We've also added Email Categories to the HTML and Form Letter Builders for added email tracking in both myStratus and Spectra. This feature enables every email sent via the software to be tracked via Analytical Reports in the SendGrid Portal and in 9 new Email Dashboard reports added to myStratus/Spectra 2018!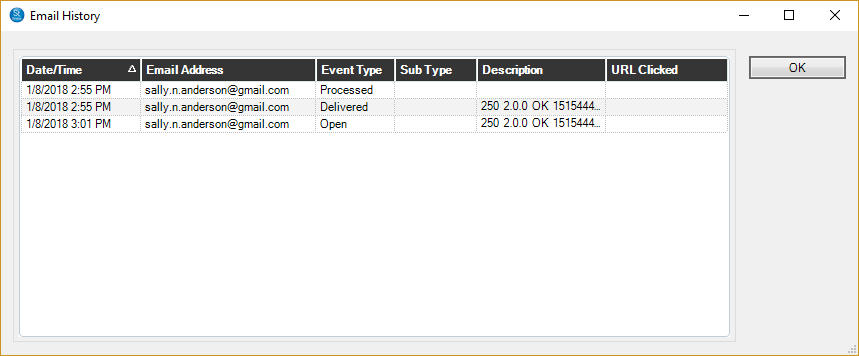 *Additional charges apply for the StudioPlus Mail service.
---
New Language Options!
With clients all over the world, Spectra and myStratus Desktop have now been translated into multiple languages. By changing your regional settings, on your computer (Spectra) or within the Company Preferences (myStratus Desktop), the software will be translated to the new language.
The new translations include:
German
Spanish
French
Italian
Dutch
Swedish
Norwegian
Danish
Now our Help Console can also be translated to any language offered by Google Translate. Simply select the language you want to view on the site and all pages will be translated on the spot!

---
GDPR Compliance!
The GDPR (General Data Protection Regulation) is fast approaching for those in the European Union. Its coming into effect will be May 25th, 2018. With this new regulation, we've added several features to myStratus 2018 to help our software become GDPR compliant. Because StudioPlus Spectra is a locally-hosted solution, we are unable to include these enhancements in Spectra. The new myStratus features include May we email you marketing material? checkboxes for Online Booking, Client Referral Programs, and Web Forms. We've also added new enhancements to how we host your database. These enhancements will keep your data secure, protect from data breaches, and much more! Rest assured, your client's personal data is in great hands!
---
Automatic Disaster Recovery (ADR) Safeguard!
myStratus users – did you know we actually have TWO datacenters, located over 500 miles apart, where we mirror your database in real time? Now myStratus 2018 includes a new capability to automatically re-direct your database connection, in the unlikely event of a server outage at one of our datacenters. This new system will be able to automatically detect if your database is no longer reachable and activate the switchover to your secondary database, all within 20-60 minutes! Night or day, we've structured our software to help you maintain access to your data!
---
New Dashboard Reports and Enhancements!
We've added lots of new Dashboard reports and other items to help you keep track of all these new features. For better searching options, we've added a new Criteria field to quickly help narrow reports down even more without the need to build a Filter!
New report Data Types include:
Payments Pending
Emails – All, Sent, and Received
Emails (myStratus with StudioPlus Mail Only) – Delivered, Opened, Clicked, Bounced, Spam Reported, Unsubscribed
Loyalty Rewards Issued
Loyalty Rewards Redeemed
New Client Referrals
New
Group By
options include:
Hour of Day (Phone Call and Email Reports)
Call Outcomes (Phone Call Reports)
Call Results (Phone Call Reports)
Appointment Status (Appointment Reports)
Client Referral Program (For most Reports)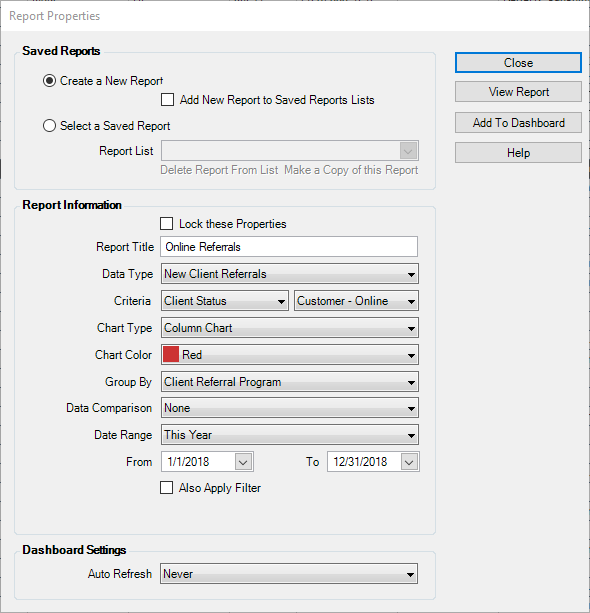 ---
Time-Saving Cayan Enhancements!
Your Cayan Username and Password are no longer required in Spectra and myStratus! Only your Site ID, Key, and Name are needed to have the ability to process credit cards. No more needing to remember when you've changed your Cayan password and having to update it in the software!

The PCI Security Standards Council (SSC) has declared that the widely-used Transport Layer Security (TLS) 1.0 encryption method is no longer secure enough to keep sensitive information safe. Therefore, the PCI Security Council has mandated that TLS 1.0 must be disabled by June 30, 2018, which Cayan will be doing. All of StudioPlus products have now been upgraded to use TLS 1.2. To ensure that you do not have any disruption in your Cayan credit card processing, please upgrade to Spectra 2018 or myStratus 2018 no later than June 30, 2018.

Cayan has also introduced a new enhancement to their credit card vault. With the enhanced vault, your client's saved credit cards are in great hands! In the 2018 version, anytime a saved credit card is used or viewed, the card's information will be automatically moved to the enhanced vault. With the enhanced vault, Cayan's new Card Updater Service allows MasterCard and Visa cards to have their expiration dates automatically updated– no more needing to contact clients when their credit cards expire!

*The Card Updater Service is an optional service provided by Cayan, additional fees will apply.
---
New Cayan Genius Terminals!
Take your credit card processing on-the-go with Cayan's latest Genius Handheld and Mini terminals! These terminals are fully integrated with Spectra/myStratus just like their countertop cousin. With the presence of Spectra/myStratus Desktop on the same Wi-Fi connection, you can take these new devices anywhere!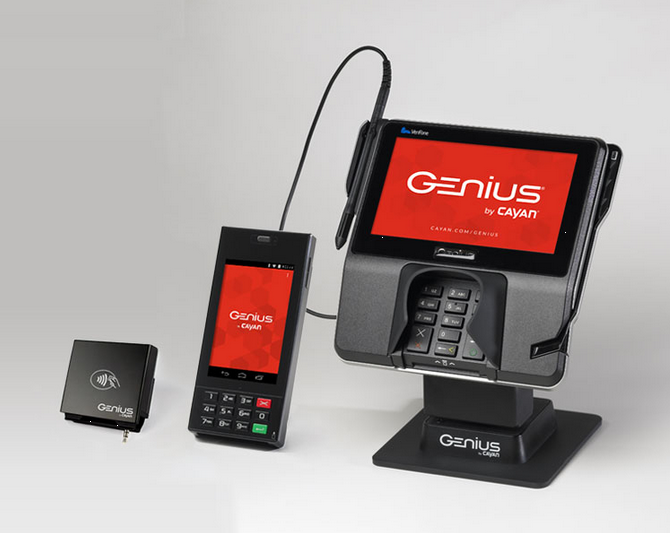 ---
New Time Clock for myStratus Mobile!
The time clock is now even more accessible for myStratus Users! We've added Time Clock capabilities to the myStratus Mobile app (available for iOS and Android Devices). So even if you're on-location, working away from the studio, or just away from your computer, employees can still keep track of their time.

Now that all the myStratus apps have access to the time clock, we've also enhanced the Detailed Time Sheet report to let you see which myStratus app a time clock entry was made in.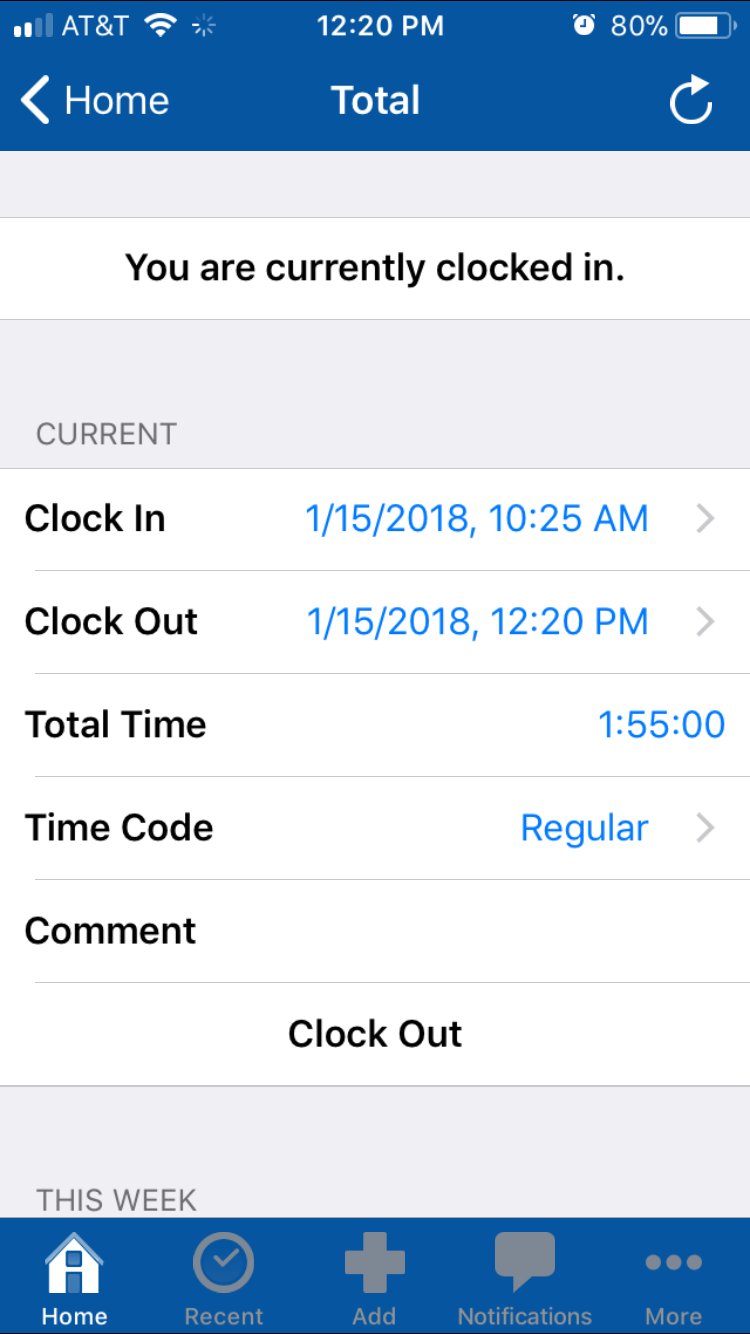 ---
New Item Maintenance Features!
Take your price lists to the next level with our new Price List Item maintenance options! By utilizing Item Tags, you now have the capability to have certain items automatically added to an invoice after a specific item is added. For instance, you can use it along-side a BOGO promotion (Buy one item and automatically get another). You can also require the presence of a specific item before other items can be added, such as requiring a client to purchase 100 Photo Cards before they can purchase a 25 Photo Card add-on.

Other new features for price list items includes the ability to require an image selection for a specific item and the ability to create a promotional item that can only be used as part of a combination promotion – not as a stand-alone item.

Our item maintenance form has changed with these new features as well. There is now a Miscellaneous tab within the item maintenance where you can set up and use these features.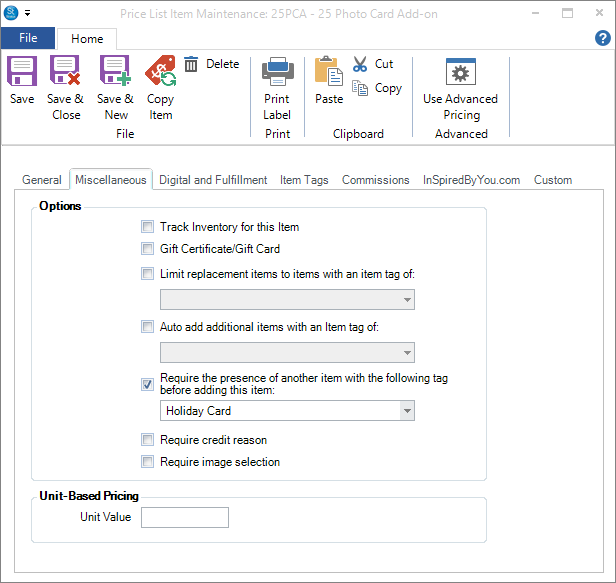 ---
New Custom Fields!
Our custom fields got a major upgrade. Multiple record types now have access to more custom text fields, date fields, and checkboxes. This includes our Invoice and Appointment forms which now have their own Custom tabs! All new custom fields are also available in the Column Chooser, as Merge Fields, and as criteria in the Filter Builder. Any custom text box can also be converted to a drop-down list.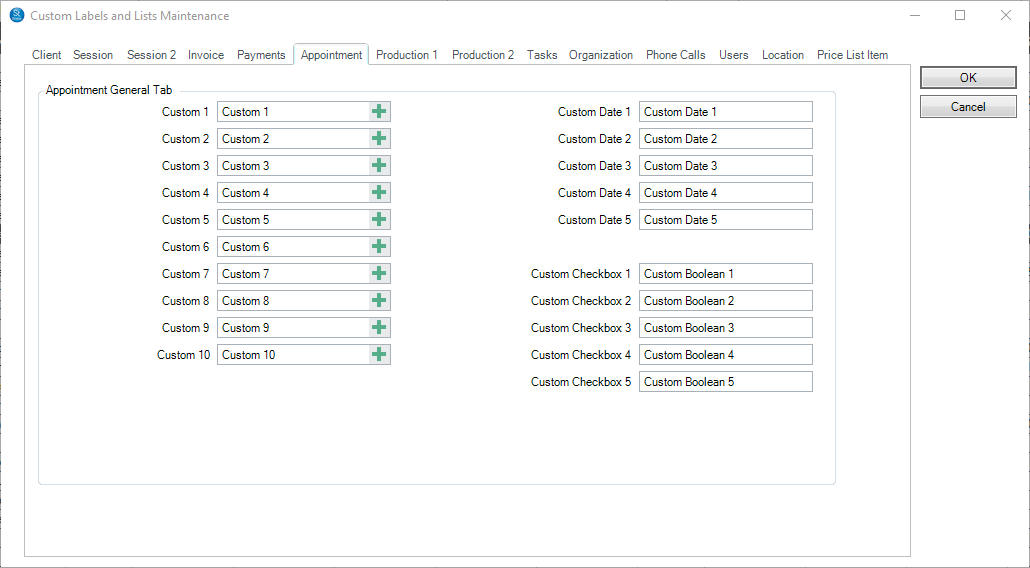 ---
Other Goodies!
The StudioPlus UserVoice has become a tremendous tool for our clients to provide valuable feedback on the new features they want to see added to our software. In addition to the enhancements listed above, here are several more enhancements in 2018 Volume 1, many coming direct from the StudioPlus UserVoice:
| | |
| --- | --- |
| | Divorced and Single Parents –Additional checkboxes on the Organization tab of a client record to track whether a parent is Single or Divorced. |
| | Search Box Default –Whenever clicking on a new hub, your cursor will default to the Search box to allow for faster searching times. |
| | Family Member Ages–Family member ages are now more exact. If a family member is less than a month old, we'll display their age in Days. You can also define at what age you want the age to stop displaying on a family member in the Company Preferences. |
| | Merge Fields – Many new merge fields have been added, including: Referred By, Today's Date Plus__ Days, Today's Date Less__Days, Session/Appointment Time Less__Minutes, Session/Appointment Date Less__Days, and more! |
| | .Net Framework Update – 2018 comes with a new .NET version requirement that is faster and includes an enhanced graphics display for high-density DPI devices (i.e. tablets, Surface Devices, etc.). If this .NET version is not previously installed on your PC, the 2018 version will automatically install it. |
| | Render Profiles – All render profiles now have additional options to automatically print the Invoice, Image Detail Sheet, and/or Work Order when the images are rendered. |
| | (Enterprise Only) Render Jobs – Enterprise Users now have the ability to select which location will process a specific Render Job. For instance, if multiple studios print their images at the corporate lab vs. In-house, they can use this new feature. |
| | Stratus Drive Image Upload Job – This control center job is now able to upload images based on the Production Order instead of the Session status. If uploading based on a production order, the images to upload can also be limited to the Ordered Images instead of All Images. |
| | 64-Bit Rendering Engine – If running a 64-bit PC, you can now install a 64-bit rendering engine from the Workstation Preferences. This new engine utilizes more RAM when rendering and helps prevent "Out of Memory errors. |
| » | Triggers – All Trigger Types now have the ability to run for All Types or All Statuses of a record type. |
| » | Duplicate Invoice Lines – Invoice Detail Lines can now be duplicated on an invoice with a simple right-click. |
| » | Security Options – New security options are available for added security on each new feature as well as some existing features, such as: Write off Invoice, Render Printer Paper Types, and Group Capture – Options. |
| » | Composite Template Sales Report – You can now keep track of your composite template sales with the new Composite Template Sales Report. |
| » | Default Task Priority – New ability to set the Default Task Priority has been added to the Company Preferences. |
| » | Customer Deposit Balance – This field is now available on the Client Summary tab as well as the Column Chooser, Filter Builder, etc. |
| » | Search By Email Subject – The ability to search by an Email Subject is now available in the Messages hub. |
| » | Auto Sort Outside Locations – Outside Locations can now be automatically sorted in alphabetical order. |
| » | Mark Complete and New Call – Phone calls have a new option to Mark Complete and New Call which simultaneously marks a phone call record completed and creates a new call record. |
| » | Default Primary and Secondary Users – Default Primary and Secondary Users can now be selected for Session Types. These fields are also known as Photographers and Assistants. |
| » | Merge Fields in Subject Lines – The ability to include Merge Fields within the subject line of HTML emails and Form Letters has now been added. |
| » | Data Entry Validations – New Data Entry Validations have been added for new Custom fields as well as Call Results and Outcomes. |
| » | Hide Invoice Level Discounts – Hiding an Invoice Level Discount is now available in the Company Preferences. |
| » | Default Durations – The ability to set Default Durations for Status Due Dates are now available for Tasks and Appointments. |
---
Learn More
For a complete list of new features* and enhancements in the 2018 versions of Spectra and myStratus, read the release notes.

* Not all features are available in every edition of StudioPlus Spectra/myStratus. Check the comparison charts below to see which features are offered in each edition.
+ Compare features - Spectra
+ Compare features - myStratus

To find out more about how to take advantage of these powerful new features, call StudioPlus Software at 888.862.4868 or email Sales@StudioPlusSoftware.com.