What's New in 2017 Volume 1
New and enhanced features save valuable time, and empower your automated functions, along with providing even greater flexibility in tracking results and issuing promotional items.
Leading the way are improvements to our big time saver elements. We've included enhancements to our Online Booking feature while Perfectly Clear's presets and tools have also been updated. The trigger setup has undergone an impressive overhaul in addition to enhancements of numerous features.
+ Release notes for 2017 Volume 1


Spectra 2017 is a free upgrade for existing Spectra users with a current maintenance plan. New to Spectra? Try it free for 30 days!

myStratus 2017 is a free upgrade with your subscription. We will begin updating myStratus accounts April ?. You will receive an email with your scheduled conversion date. If you use the myStratus Desktop App, you will be prompted to download the 2017 version the first time you log in after your conversion.
Using an older version of StudioPlus Spectra?
+ Compare features by year
---
StudioPlus Finale
Also added in 2017 is our new StudioPlus Finale (pronounced fi-na-lee) tool. This tool allows you to set up a server to automatically manage your render and print jobs. Now print and render images automatically based on statuses! For example: setting a session to the Print Proofs status will autoamtically send the correct images to your printers for printing. The Finale Server gives you complete control over those automatic jobs as well. Especially vital with multiple computers sending print and render jobs at the same time, this software let's you manage, view, and delete render and print jobs as they come through. Overall, it's a very powerful tool that should save countless hours of work for your production staff. With StudioPlus Finale, you can automatically:
Create a low res version of each session image to be sent to your ecommerce site.
Create a low res version with a watermark of the client's favorite image for social media.
Create a high-res version of the images for which the client has ordered the rights to for either USB/CD delivery or electronic delivery.
Create a high-res version of a spectacular image you've received a model release for.
Create and print proof images of all the images within a session.
Create and print hi-res versions of all the images the client has ordered, and send the images to separate printers based on size.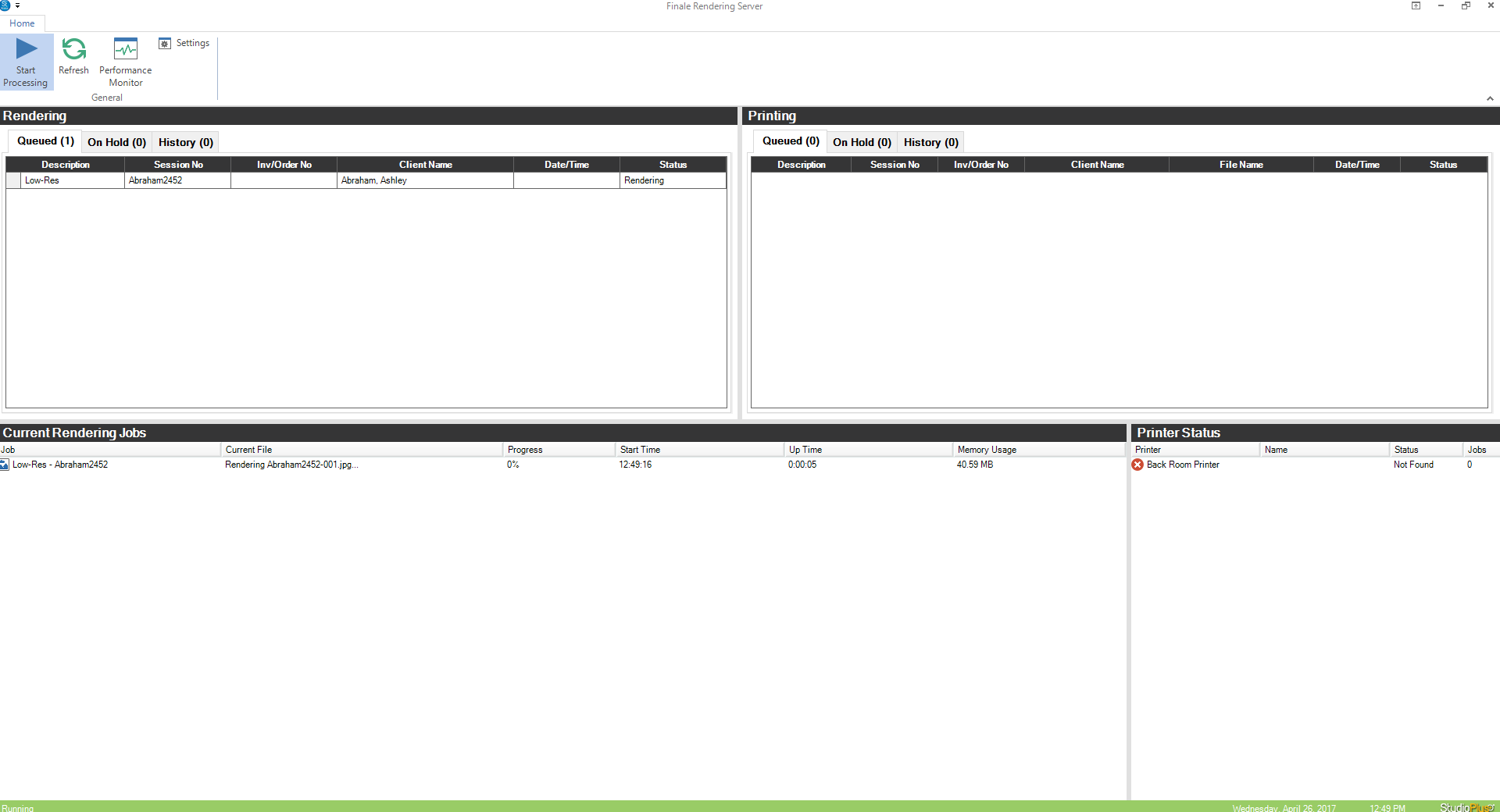 ---
Inventory
Over the years, adding the ability to track inventory levels for your stock merchandise has been a highly requested feature for our software. Now you can! With our new Inventory Maintenance, simply adjust what the current inventory level is of an item. This can be done manually or import quantities from an Excel file. We've added a new inventory report to quickly show the current inventory amount of items. This new inventory feature also applies to your invoices. Whenever an Inventory Item is sold on an Invoice, that item will be taken out of Inventory automatically. The reverse occur with the use of Credit Memos. Whenever a Credit Memo is issued for the return of an Inventory Item, then that item will automatically be placed back into Inventory.

---
New Perfectly Clear Update!
Want to save energy by reducing the hours spent retouching? Our Perfectly Clear feature is now enhanced to add even more Automatic Retouching tools. Give yourself and your staff the gift of precious time by utilizing the most powerful options available. Imagine, only having to retouch the most severe images— let the software handle the rest!
The Perfectly Clear plug-in has been enhanced and new tools added:
Auto Exposure, to give you even more amazing results in your auto exposure adjustments.

New Skin Smoothing Type added – Now choose just the right amount of skin smoothing by selecting "Subtle", "Normal", or "Super Smooth"

We relabeled existing Skin Tone to be Infrared Removal – Automatically detect and remove the spurious Infrared from flesh tones while maintaining the proper reds in the other portions of the photo

New Skin Tone Feature added – Alters the skin tones with single click, such as adding a tan or stronger foundation to the skin

New Blush Feature added – With a single click, add 'Blush' makeup to your subjects

New Catchlight Type – Now you can choose the type of sparkle that is added to every eye
| | |
| --- | --- |
| » | |
+ Learn more about Perfectly Clear
+
Additional charges apply for the
Perfectly Clear
plug-in.
---
Online Booking for Organizations/Schools!
Note: This feature is available in myStratus only.
Set up Online Booking for your Organizations and/or Schools! This is in addition to the normal Online Booking for Session Types. Now utilize our popular Online Booking tool specifically for your schools and other organizations, greatly simplifying the booking process and saving countless labor-hours for your staff. With this new feature, Scheduling TimeSlots can be created and assigned to specific Organizations. Next, send emails to all students with a link to allow them to book their Session or Appointment. Even make time slots only bookable by certain organizations, so you can limit what your students view.
| | |
| --- | --- |
| | When creating new TimeSlots (For both Single and Bulk creation tools), you now have the option to assign the TimeSlot to an Organization. |
| | When creating a Form Letter or HTML Email, we've placed all the Online Booking merge fields into their own pop-up menu to assist in keeping things more organized. |
| | You control which Orgranizations have access to Online Booking, the date ranges they can book online, and even what appointment types/session types they can choose from. |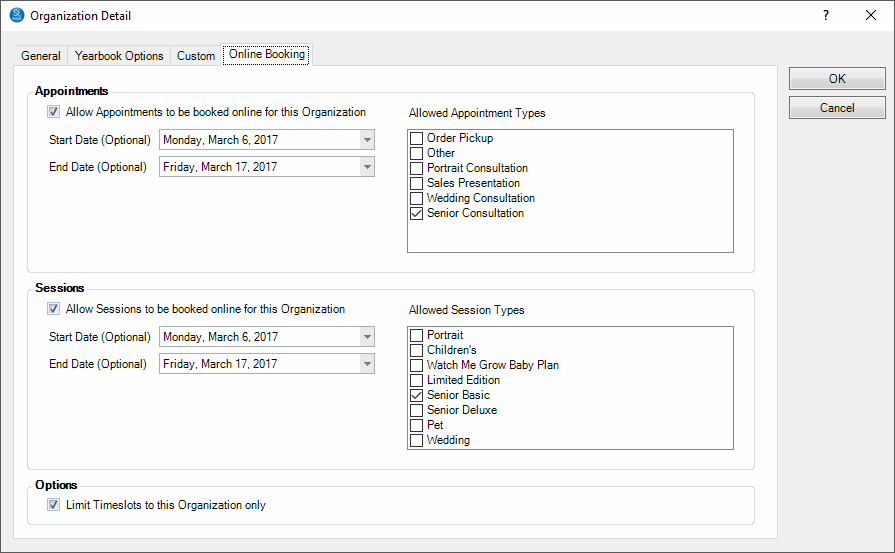 ---
Mobile App Settings
Note: This feature is available in myStratus only.
Our new Mobile App settings provide greater control over the syncing process, giving your mobile devices only the information you require and the right amount. Some of our customers have very large databases with lots of old records, so loading that much information into an app can trigger extended sync times. With the new settings, you're able to limit the amount of data being synced—speeding up sync times for customers who utilize this function.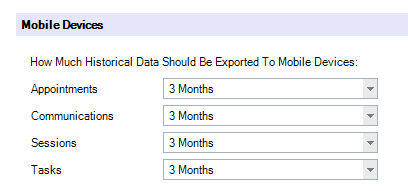 ---
Place Holder Price List Items
Ever want to create a package, give your associate the flexibility to alter the components during the sale, but not provide too much flexibility? Our new Place Holder Price List Items offers this option—granting the ability on the invoice to change out this item with another selected by your customer. You may also limit the items for which this placeholder item can be exchanged. Increase sales by providing your clients with much more flexible packages, but still maintain control over who can order what.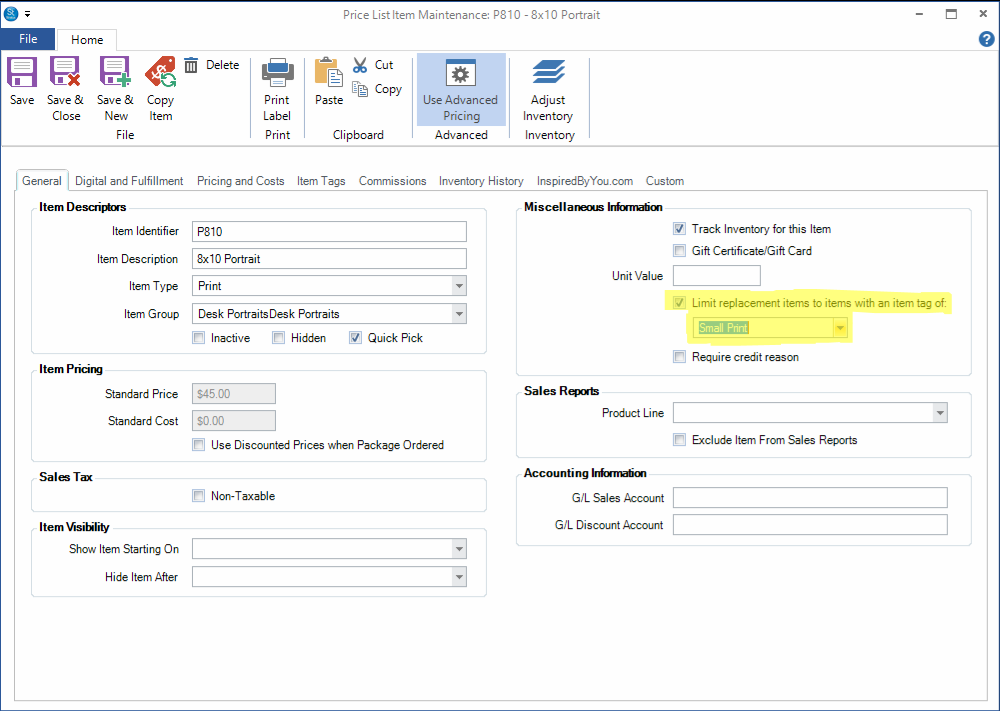 ---
Trigger Maintenance Form
OK, we've heard your feedback – Triggers are one of the most powerful features of the software, but they appear just too complex to setup. In response, we've combined all the Trigger Maintenance Forms into a single, greatly simplified form. Previously, setting up triggers could become a complicated process on where a trigger should be set up. The solution was to make the process effortless. Combine the new simplicity with the already existing power of triggers, making it much easier to automate your studio's workflow!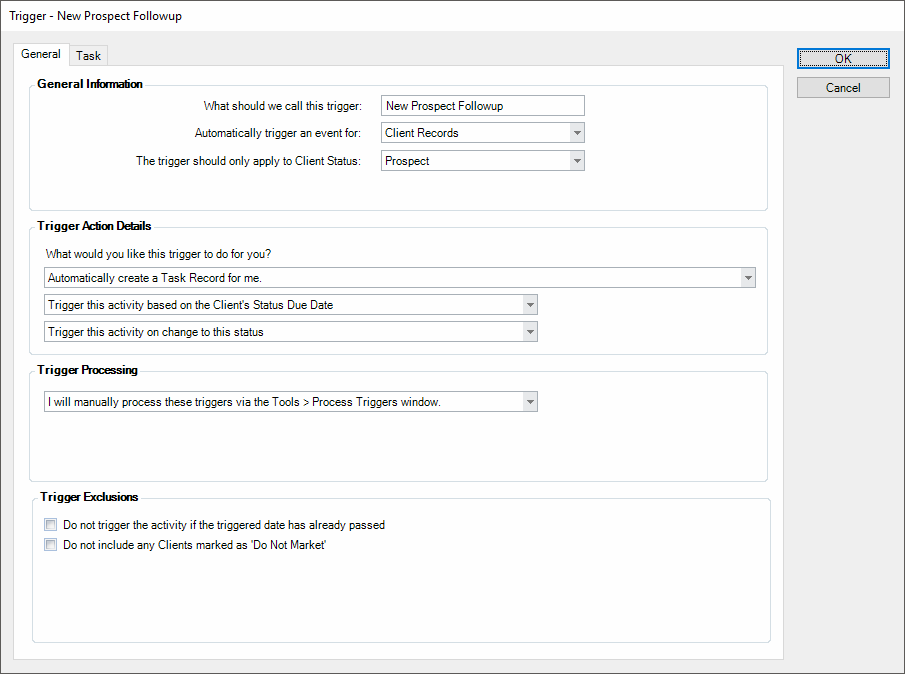 ---
Holiday/Special Event on the Calendar
The number one request on the StudioPlus User Voice was the ability to display holidays on the calendar, and to easily add, remove, and modify them each year. We've created a brand new Holiday and Special Event Maintenance form with the ability to easily import all your annual holidays at once. Along with the import, you can define if the Open and Closed hours should change for those days. Use this feature to set half days off, full days off, or even just a couple hours off. To make this process even smoother, we've included Holiday Lists with common holidays on our website which you can download for import. They are easily modifiable to allow you to customize the list to fit your exact needs.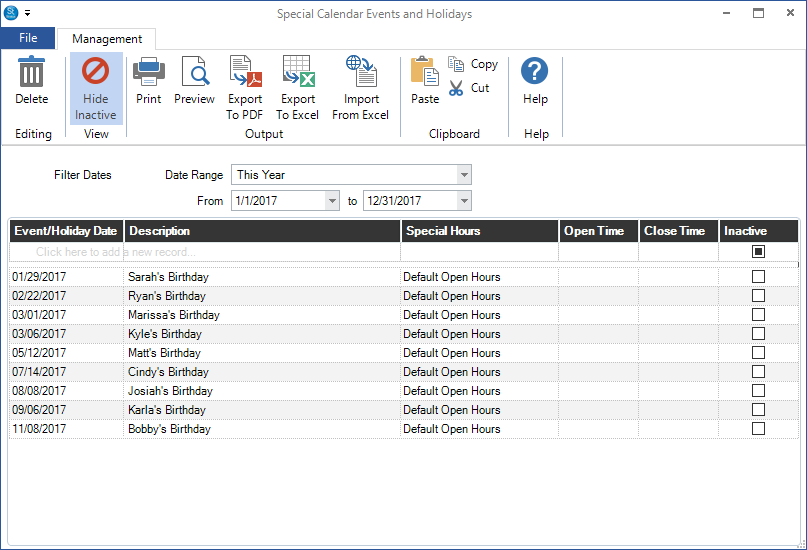 +
Online Import Files
---
Credit Memo
We've changed the process of creating a credit memo. Issuing a Credit Memo or Return can be a daunting and tedious task, but no longer! Through the use of our new improved "Create a Credit Memo" features, create a credit memo and choose either Refund for Returned Products or Customer Service Refund for the Credit Memo. If you choose to Refund for Returned Products, the software makes it easy for you to select which items to refund. If you choose to issue a Customer Service Refund, it only requires an amount and a reason. You can even create a list of default credit reasons, then restrict your users to use those reasons.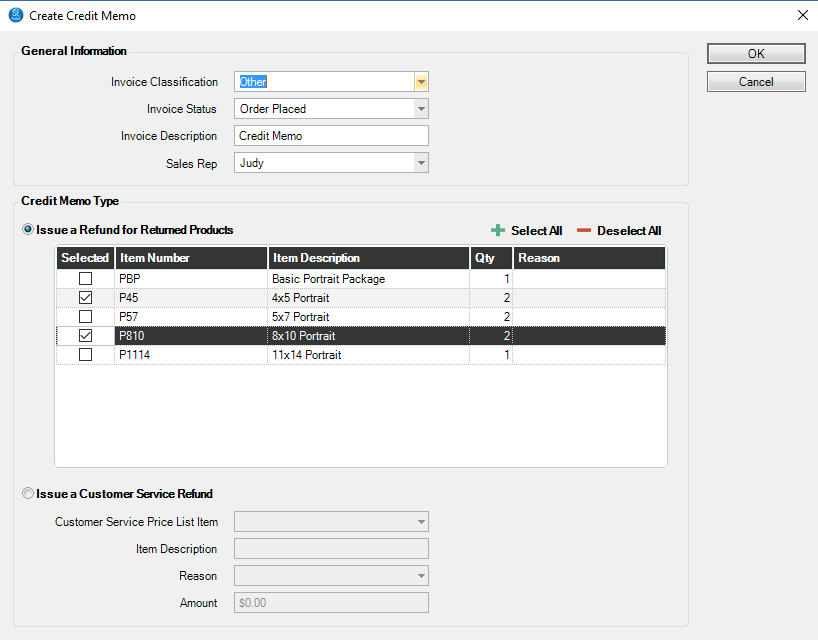 ---
Other Goodies!
Additional enhancements from 2017 Volume 1:
| | |
| --- | --- |
| | Default Image Groups - A new ability allows you to set up default image groups, created automatically for new sessions. |
| | Print Invoice Level Discounts - A new ability has been added to show Line Item Discounts on the Invoice Printouts. |
| | Updated Maintenance Forms - Many of the maintenance forms have been updated to make them more user friendly. Also more functionality has been added. The following forms have been updated Payment Methods, Printing Preferences, Price List Item Options and Enhancements, Phone Number Labels, Phone Call Types, Invoice Classification, Family Member Relationships, Calendar Descriptions, Sales Tax Maintenance Forms, and Form Letters. |
| | Calendar User Preference - We have given more preferences for users to define how they want their calendar to look. You now have the ability to restore the calendar to a default view when you start up the software. |
| | Rescheduling a Session - Now when you reschedule a Confirmed Session, the "Confirmed" checkbox will be unchecked automatically. |
| | Invoice and Session Descriptions - You can now print the Invoice and Session Descriptions on the Invoice and Session Confirmations |
| | Added Social Media Fields - Instagram and Snapchat have been added to the Soical Media section of client records |
| | Added Security Options - More security group settings have been added. Appointment - Notes can be locked down to control access to the Appointment Notes. Lists - Invoice Credit Reasons can control access to the Credit Reasons Maintenance screen. Finally, Invoices - Sales Tax Override can now control if a user can change the sales tax on an invoice. |
| | (Enterprise Only) New Enterprise Sharing and Duplicate Check Options - A new option has been added to limit the locations that the a client can be shared from and also the locations that we search for duplicates in. For example, a franchise may NOT want to pull Clients from other franchises, but a corporate owned chain may allow it. |
| » | Time Sheet Enhancement - A new ability has been added to auto calculate overtime time, and you now have the ability to include or exclude inactive users on the report. |
| » | Coupon Number Validation - A new option has been added that allows you to enter a list of valid Coupon Numbers for a Promotional Item. You can also add a expiration date to coupon numbers, and then import a list of coupons numbers as well. |
| » | Auto remove Timeslots - A new Online Booking feature has been added to auto remove timeslots that conflict with the timeslot that was just booked. For example, let's say the you have one 60 minute timeslot with two 30 minute timeslots side-by-side. If a Client books the 60 minute timeslot, the two 30 minute timeslots will be removed. If later the Session is cancelled, all three timeslots will be automatically added back to the calendar. |
---
Learn More
For a complete list of new features* and enhancements in the 2017 versions of Spectra and myStratus, read the release notes.

* Not all features are available in every edition of StudioPlus Spectra/myStratus. Check the comparison charts below to see which features are offered in each edition.
+ Compare features - Spectra
+ Compare features - myStratus

To find out more about how to take advantage of these powerful new features, call StudioPlus Software at 888.862.4868 or email Sales@StudioPlusSoftware.com.